Posted on April 7, 2016 by orbital
SoC Entrpreneurship and NUS Enterprise have teamed up to get two fascinating (and famous) start-up speakers to come and give talks on campus, at one of the newest venues for all things start-up.
It promises to be a great talk about the test of failure and how it leads to success.
C'mon, we're sure you need some time off from your projects and homework assignments (and get some caffeine).  Join us at the Hangar next Monday, 18 Apr 2016 at 18:30!  Do RSVP at http://bit.ly/kopichatNUS so that they can manage the catering.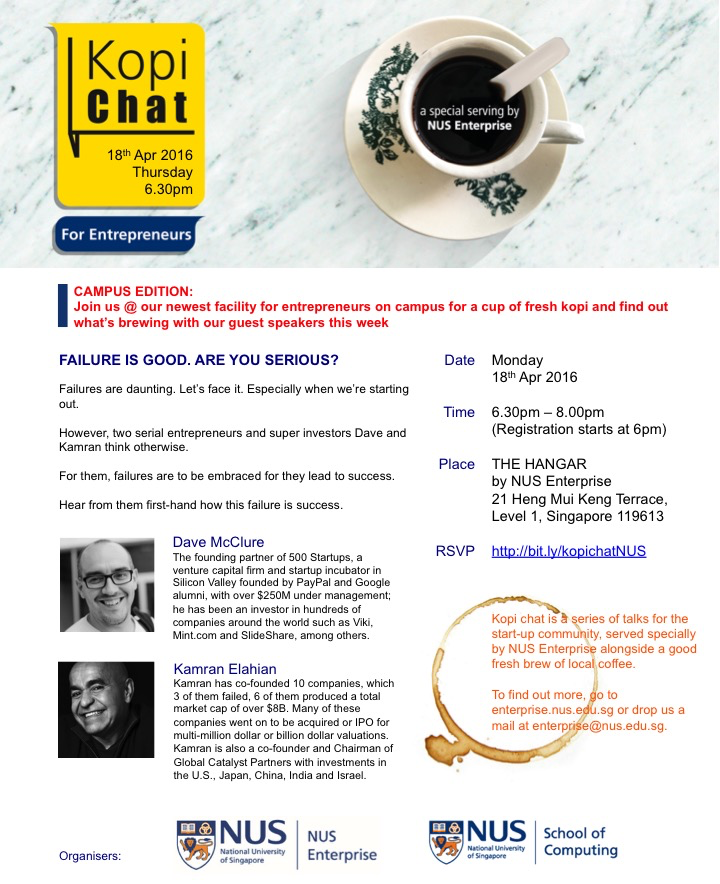 Kopi Chat is a series of talks for the start-up community, served specially by NUS Enterprise alongside a good fresh brew of local coffee.
In this session of Kopi Chat, Dave McClure and Kamran Elahian will be sharing on the lessons learned from start-up failures. Join us on this series of Kopi Chat.[ Bio of the speakers ]Dave McClure
The founding partner of 500 Startups, a venture capital firm and startup incubator in Silicon Valley founded by PayPal and Google alumni, with over $250M under management; he has been an investor in hundreds of companies around the world such as Viki, Mint.com and SlideShare, among others.Kamran Elahian
Kamran has co-founded 10 companies, which 3 of them failed, 6 of them produced a total market cap of over $8B. Many of these companies went on to be acquired or IPO for multi-million dollar or billion dollar valuations. Kamran is also a co-founder and Chairman of Global Catalyst Partners with investments in the U.S., Japan, China, India and Israel.
Venue: The Hangar (i3 Building, Level 1. 21 Heng Mui Keng Terrace, Singapore 119613)
Food & Beverages: Served