Posted on May 6, 2016 by orbital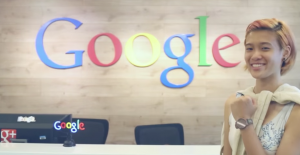 The headliner (if there could be said to have one) at Orbital this year will be Google's two sessions.  We wanted to give you a lowdown for what is going to happen in both.
Speaker: David Zhu, Charlotte Park and others
15:30-16:00
General Intro about Google NBU Office by David
16:00-16:30
Mini Panel by all
David Zhu transferred to Google Singapore from MTV and joined NBU (Next Billion Users) team as senior engineering manager this year. He joined Google's Android Enterprise team as part of the Google acquisition of Divide, a company he co-founded and served as chief technology officer.  Divide provided a secure virtual workspace on employee's personal phones and tablets along with a cloud based management platform to enable enterprises to fully embrace mobile first and join the BYOD revolution. Prior to Divide, David was the Director of Engineering at Smule, where he created the initial Sonic Network, which powered many of the company's #1 hits on the Apple App Store including Ocarina, I Am T-Pain, and Magic Piano. Over the years, David has also held technical roles at companies such as Morgan Stanley, Jarna, and HP.  David enjoys mobile hacking and has worked on many major platforms including Android, iPhone, BlackBerry, Windows Mobile, PalmOS, and Symbian.
---
10 May 09:00-10:00
Speaker: Charlotte Park, Google Recruiters

9:00-9:30

:
How we hire – the myths behind of resume screening and interviews
9:30-

10:00

:
Q & A by all of you
Charlotte Park is Google's University Programs Specialist in the APAC area and has been with Google since 2013.  She'll be spearheading the presentation and the Q and A (featuring all of you) on what G and the other tech giants are looking for in their incoming talent pools.
So with that, you all know what you need to do if you want to have a shot at getting hired — ask lots of great questions during the two sessions.
<plug> But of course, if MNCs are not your thing, we have plenty of mentors from current SoC, and recent alumni who can tell you all about the land of start-ups and other great places to employ your computing know-how (at the mentor match-up, late on 9 May). </plug>